Summer Program
Professor Shigeto Sonoda (Institute for Advanced Studies on Asia and Graduate School of Interdisciplinary Information Studies, The University of Tokyo)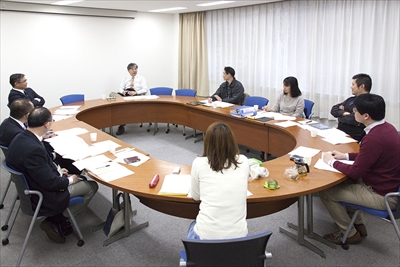 The Global Japan Studies network will launch its first summer program this summer. The content is still being deliberated so I can't provide detailed introduction. But we have been convening frequent administrative meetings to discuss issues of what types of student we target, what specific kind of program we have to offer, how to publicize it and so on.
  In my view, there are three keys to successful implementation of the program.   
  Firstly, whether we can arrange attractive lectures under an attractive theme.
  There may be participants who join the program with the simple desire to see the University of Tokyo. But, what motivate international students to join the program are above anything else the program's theme and content as well as powerful lectures delivered by charming professors.
  Students will be disappointed unless we can provide lectures that make them think that joining the program was a good choice. The importance of lectures is beyond doubt, but equally important is an attractive program theme. Under an inclusive, cohesive, and captivating theme, lecturers' individual personality comes to life. The theme for this year is "An Inquiry into Japan's Postwar," and we are now negotiating with potential lecturers.   
  Secondly, whether we can provide inspiring extracurricular activities which are closely connected with the lectures in the program.
  Unlike regular courses, summer program is not constrained by the time schedule required for receiving course credits. Participants can freely go to actual sites, ask for opinions from people concerned, and furthermore revisit those sites to verify subsequent changes. Indeed, it is no exaggeration to say that the combination of lecture and fieldtrip/extracurricular activity is most essential component of the summer program.
  The author has experiences in operating summer programs in collaboration with University of Hong Kong, National Taiwan University, Peking University, and Seoul National University. In these programs, many participants are greatly impressed by extracurricular activities. A student who participated in the joint program with National Taiwan University two years ago is now working at NHK, who wrote on the Facebook community page shared by former program participants that "Is Mr. Huang Guo-chang who is attracting a lot of attention in the Taiwan presidential election (as chairman of the New Power Party) the same Huang who gave us a lecture in our program?" Her comment suggests that our visit to Mr. Huang, which is one of the extracurricular activities in the program, was so impressive in her eyes.
  Knowledge of politics is obtained not only in classroom but through interviewing politicians. Urban planning is both studied through theories and sensed from viewing actual cityscape. Business management is learned from rationalized models as well as entrepreneurs' stories of sweets and bitters. This is where fundamental pleasure of learning lies and the success of the program hinges precisely upon how to design these activities.   
  The third key point is to whether we can give participants the chance to digest what they have learned, investigate into what they want to know more through group research, reporting its results at the time of final presentation.
  I came to realize this point for the first time at the first joint summer program with University of Hong Kong in 2013. In my eyes, participants were not satisfied with simply completing arranged activities. More precisely, participants wanted to, upon finishing the assigned menu items, discuss tumultuously among themselves to decide on a topic for further investigation, conduct research on the topic and finally report the result in group presentation. By so doing, participants could obtain a strong sense of fulfillment.
  This sense of fulfillment lasts for some time after the program concludes. A sense of solidarity engenders among fellow participants who shared the dense and busy ten days, and they maintain communication between themselves transcending walls of language and culture.   
  When all the above three key conditions are met, the program will be enlivened and participants will be full of vitality. When participants are vitalized, lecturing faculty will feel rewarded and those who are visited will want to accept another visit from the program.
  To put it differently, good summer program will not be created without such efforts. Then, what are the merits of creating such programs? If you ask me whether there are any research gains from such programs, my answer will be "yes" when I am high-spirited and "no" when I am low-spirited.
  Reasons why I think so are … let me explain in the next essay.