CALL FOR APPLICATION for UTokyo Regular Students
(Deadline: July 12, 2017 [Wed.], 23:59 JST)
The University of Tokyo Global Japan Studies Summer Program (Jul. 29-Aug. 8, 2017)
"AN INQUIRY INTO JAPAN'S POSTWAR"
2017.04.28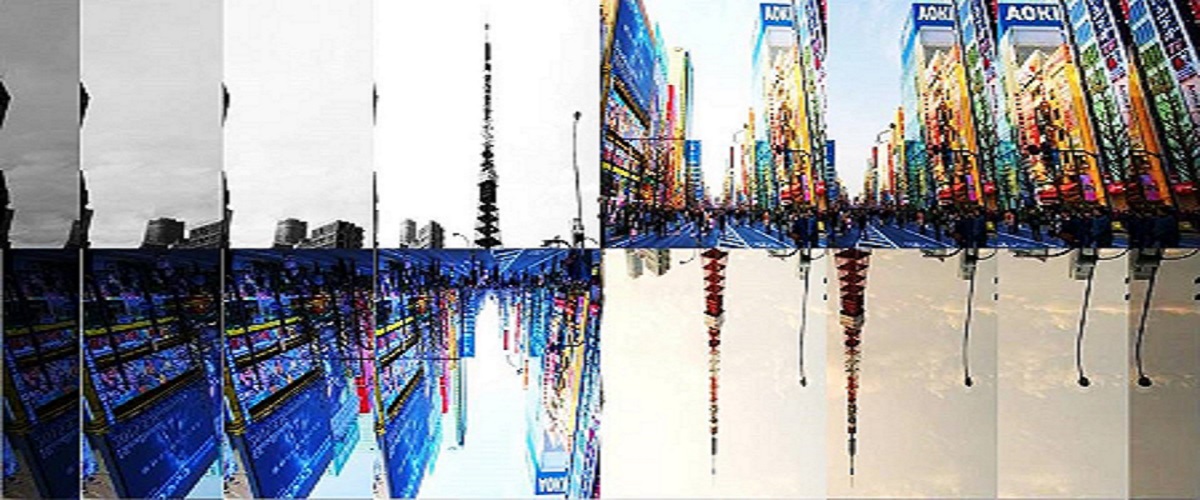 About the Program
Description:
Japan's postwar period is most often described as four decades of high growth "economic miracle" followed subsequently by a prolonged recession dubbed "the lost two decades" (1990-present). Japan's postwar, however, points to a far more complicated and ongoing process of social, cultural, and political changes, which this program is set to explore.
Participants will be immersed in a ten-day intensive program of 1), interdisciplinary academic lectures (in humanities, social sciences, and engineering), 2), carefully planned fieldtrips in Tokyo and surrounding areas.

Through a well-designed combination of on- and off-campus study, the program challenges participants to both critically analyze and actually experience sociological, political, and technological issues, such as environmentally sustainable urban planning and social stratification in relation to history and culture. These issues are key for understanding not only Japan's postwar itself but also the larger world to which Japan is closely connected and of which Japan is intrinsically a part.
Objectives:
By the end of the program, participants will have
gained a more nuanced understanding of Japan's postwar as a complex and changing society;
learned analytical skills with which to analyze social phenomena in Japan and other parts of the world;
improved their intercultural communication skills as a result of collaboration in research projects and presentations with fellow students from different countries of the world.
perhaps most important of all, you will have made a lot of friends from all over the world who will share your memory of summer 2017 in Tokyo!
Number of participants: 5 undergraduate students from the University of Tokyo, and 20 in total (approximately 15 undergraduate students from overseas universities).
Eligibility and Language requirements: The summer program does NOT require submission of proof of English language proficiency such as TOEFL or TOEIC scores, but participants must have sufficient English proficiency to attend lectures and field trips in English and give presentations in English. This program has NO Japanese language requirement. Knowledge of Japanese, however, will be helpful for your participation in the program.
Program requirements:
Participants are required to conduct group research projects and give presentations on the final day of the program. Project topics shall be decided in consultation with program faculty members.
Participants will also be required to complete a program evaluation paper.
While the program lecture and fieldtrip do not count toward course credits, participants will receive a University of Tokyo summer program certificate upon successfully completing the program.
Tuition and Fee: No fee will be charged, but participants must pay for public transportation and entrance fees when on field trips, and will be asked for logistic help.
Schedule: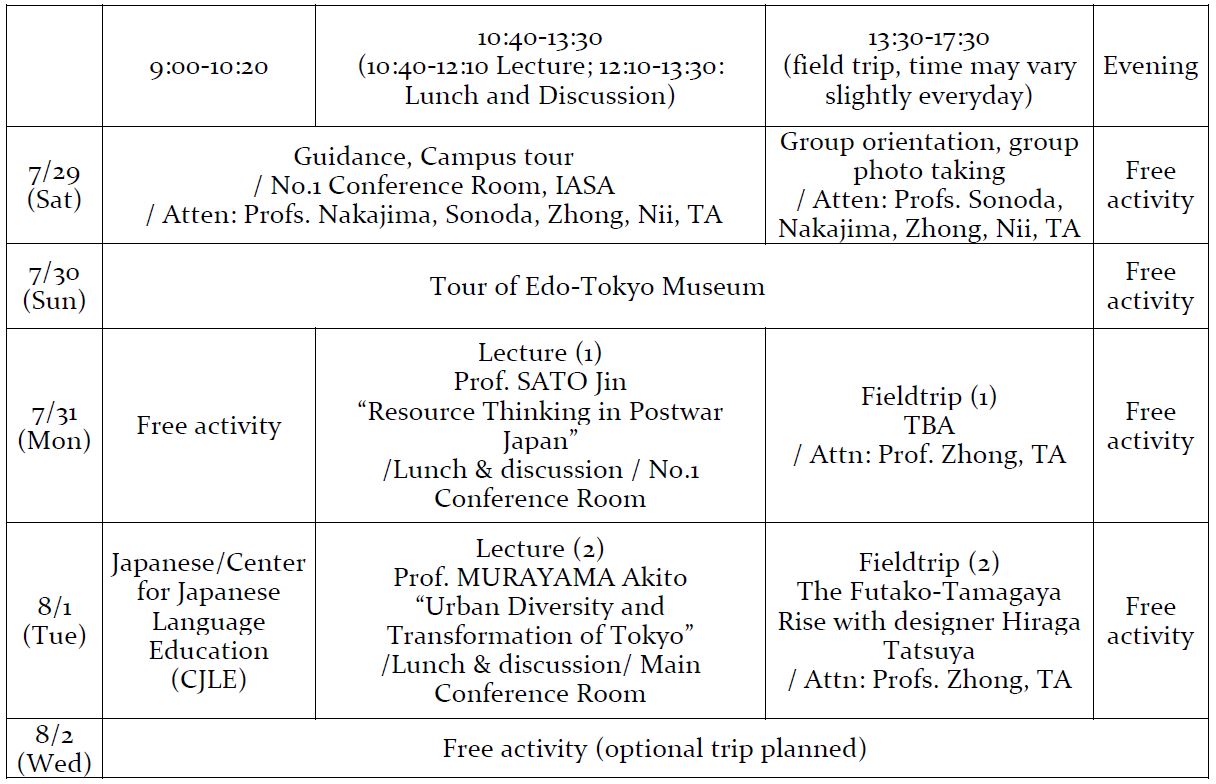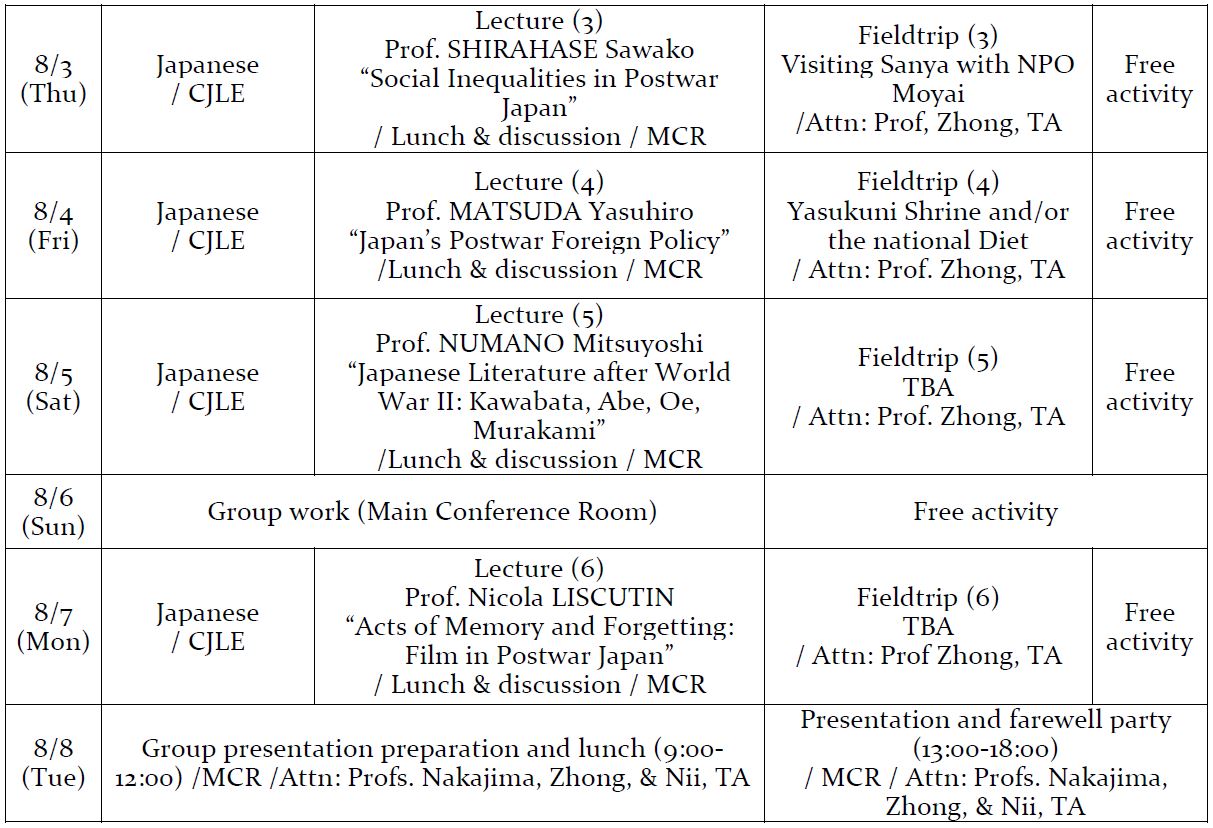 Application
Required application materials: 1. one 3-page double-spaced essay in English outlining why you are interested in this program and what you want to learn from it;
2. A Short C. V. either in English or Japanese(free format);
3. your most updated and official transcripts issued by your university.

Application deadline: July 12, 2017 [Wed.], 23:59 JST

How to apply: To apply, please send your application by E-mail with the following subject:
"2017 GJS Summer Program Application"
Email Address:gjs[at]ioc.u-tokyo.ac.jp
What happens after you applied: The program committee will carefully evaluate the entire dossier of every application and make decision shortly after the application deadline.
For reference, please see 2016 summer program report and participants feedback
Links
The University of Tokyo
Institute for Advanced Studies on Asia (IASA)
Global Japan Studies website
USTEP
UTokyo graduate programs offered in English (ITAsia, IHS, School of Science, etc.)
UTokyo School of Engineering

Program Host Institution: Institute for Advanced Studies on Asia
Program Organizer: Global Japan Studies (GJS) Research Network
Program Committee Advisers: Prof. Sonoda Shigeto, Prof. Nakajima Takahiro
Secretariat: Prof. Nii Yoko, Prof. Zhong Yijiang
Contact:
Prof. Nii Yoko (person in charge)
gjs[at]ioc.u-tokyo.ac.jp
Tel: (81)3-5841-5891
Fax: (81)3-5841-5898

Global Japan Studies
The Global Japan Studies at the University of Tokyo is an interdisciplinary and multilingual network of research and education on Japan. It seeks to bring together Japanese studies overseas and studies of Japan within Japan.