The 75th GJS Seminar

The Peril and Promise of Education: Japanese Settlers' Schooling in Davao, the American Philippines
| | |
| --- | --- |
| Date and time: | June 1, 2021 (Tue.), 4:00-5:00PM |
| Venue: | Online via Zoom |
| Speaker: | Eri Kitada (Ph.D. Candidate, Rutgers University; Visiting Fellow, Institute for Advanced Studies on Asia, UTokyo) |
| Language: | English |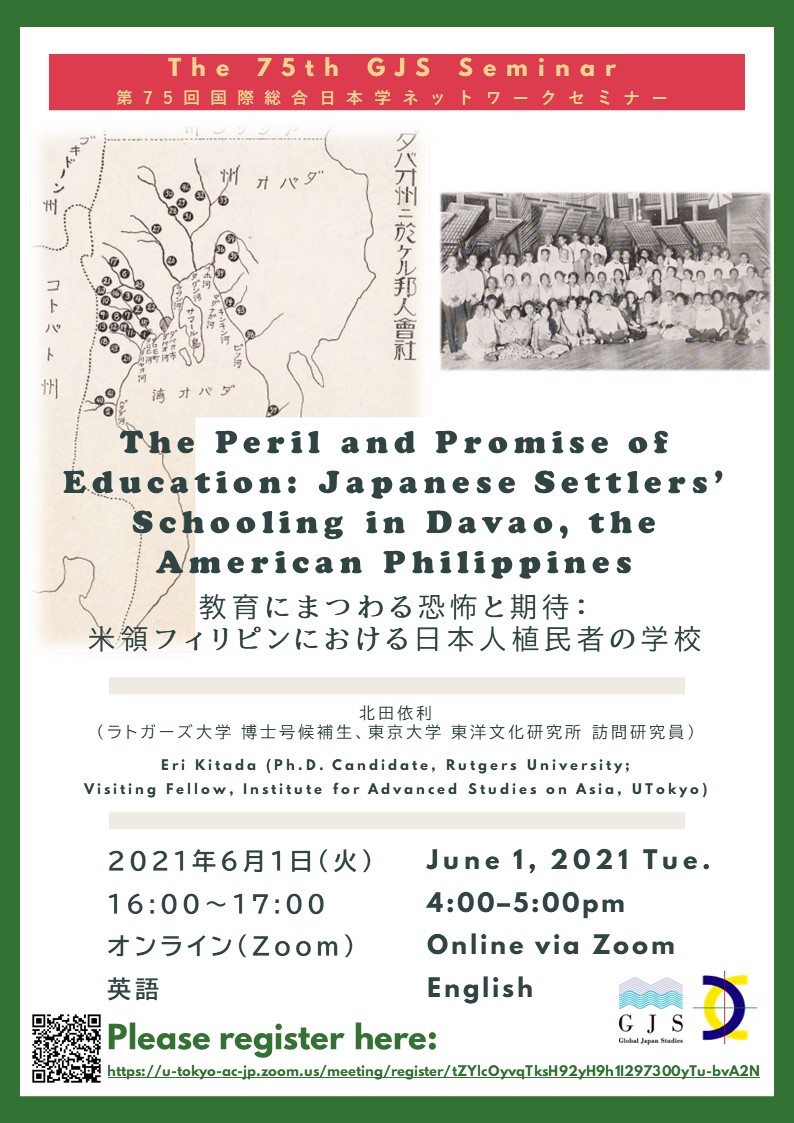 This is an online event with Zoom. Please register here:
https://u-tokyo-ac-jp.zoom.us/meeting/register/tZYlcOyvqTksH92yH9h1I297300yTu-bvA2N
Abstract:
In the first half of the twentieth century, with the encouragement of U.S. colonial and Japanese governments, Japanese migrants established families, communities, and settlements throughout the Philippines that endured until the end of World War II. My presentation sheds light on this little-known history of Japanese settlement in the American Philippines, investigating migrant schools created by these Japanese communities. Building on insights by historians of gender and colonialism, Japanese and U.S. empires, and Japanese diaspora, it investigates the debates over mixed-race children of Japanese fathers and Filipina mothers.
Geographically, this study focuses on Davao in southeastern Mindanao, which was home to the biggest Japanese settler community, about twenty thousand people, in the pre-World War II Philippines. Davao then was a colonial hub of commercial agriculture that Japanese settlers and companies came to dominate. I will show that Japanese schooling in Davao is a crucial site for discussing the history of race, migration, and empire.


Pictures of this event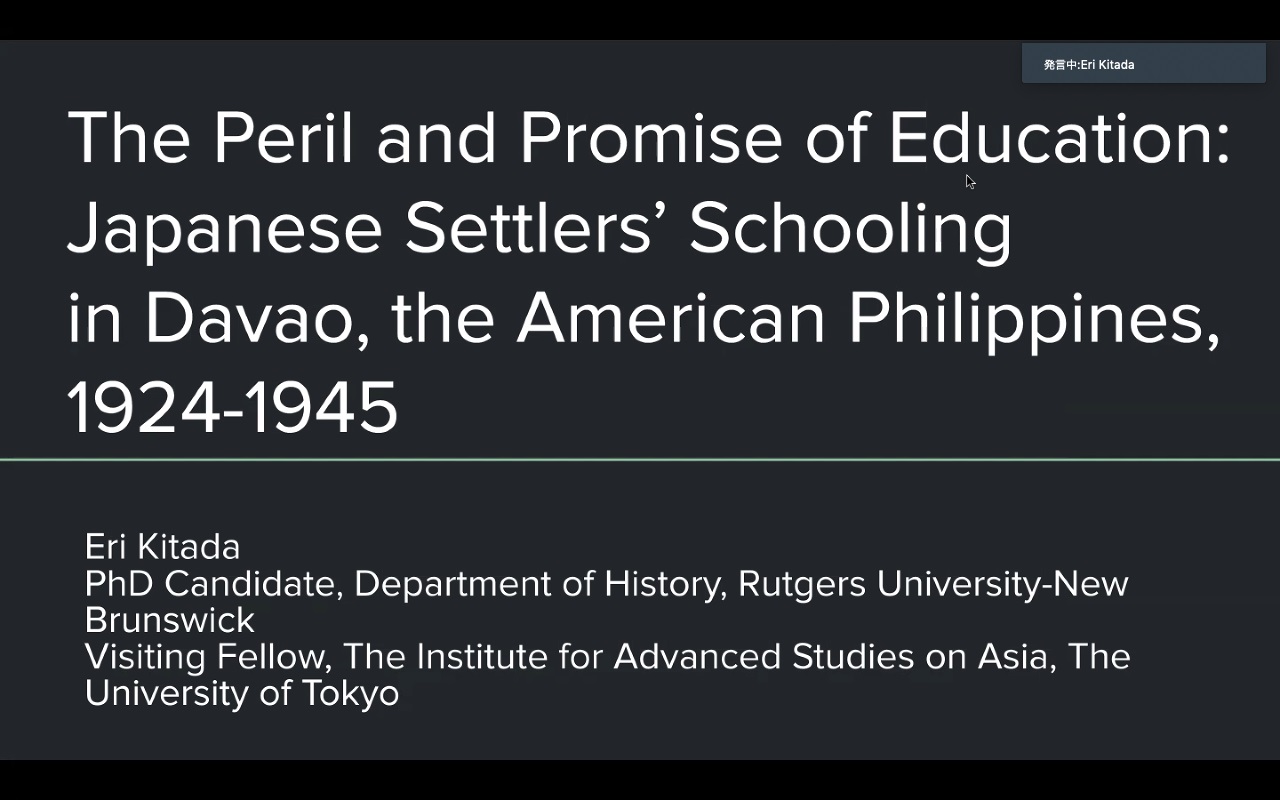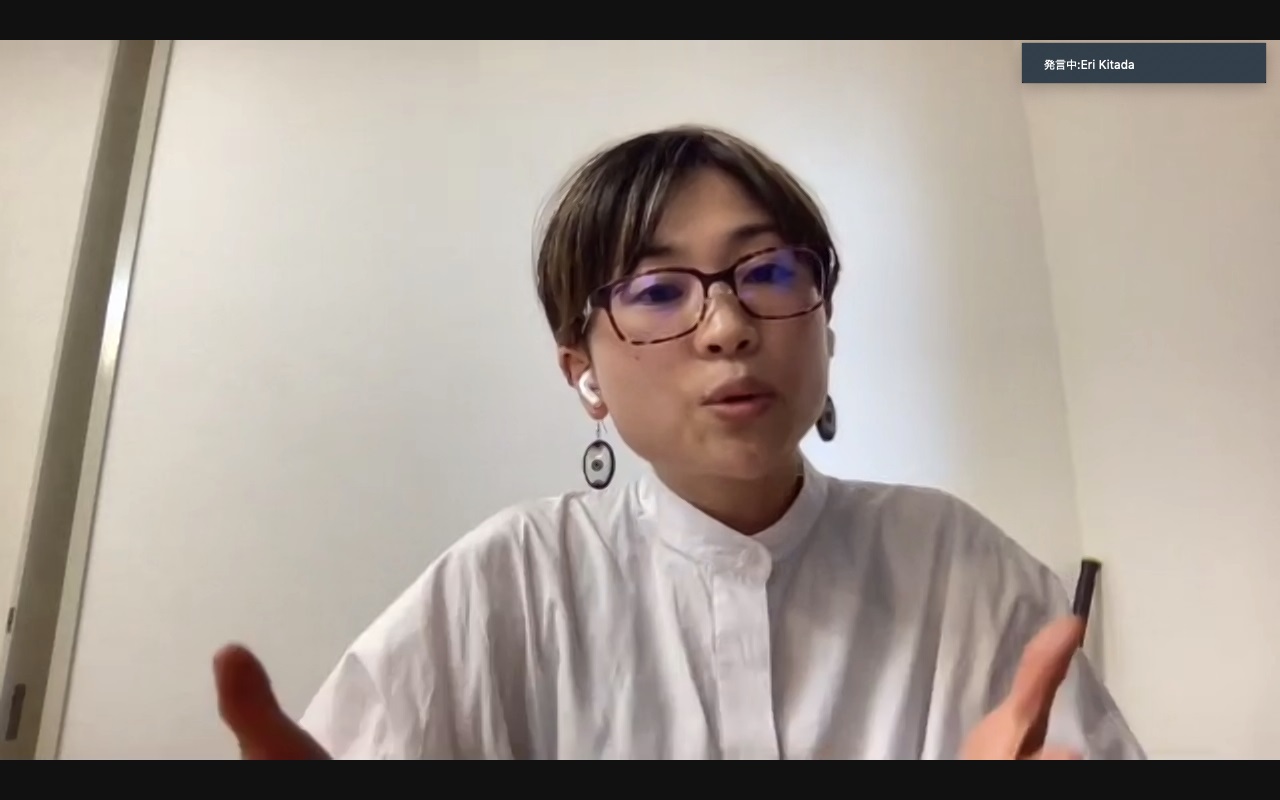 Organizer: Global Japan Studies Network (GJS) Co-organizer: Institute for Advanced Studies on Asia (IASA) Contact: gjs[at]ioc.u-tokyo.ac.jp